Crab Island is a popular destination for tourists visiting Destin, Florida. This shallow sandbar, located in the Choctawhatchee Bay, offers visitors a chance to relax in clear, turquoise waters and enjoy a variety of activities.
Crab Island is only accessible by boat and is a popular spot for boaters, kayakers, and paddleboarders. Visitors can anchor their boats in the shallow waters and spend the day swimming, lounging, and playing games in the sun. With crystal clear waters and plenty of shade, it's the perfect place to soak up the sun and escape the hustle and bustle of the mainland.
One of the most popular activities at Crab Island is snorkeling. The shallow waters of the bay are teeming with a variety of marine life, including colorful fish and playful dolphins. Snorkelers can explore the shallow waters and take in the breathtaking views of the underwater world.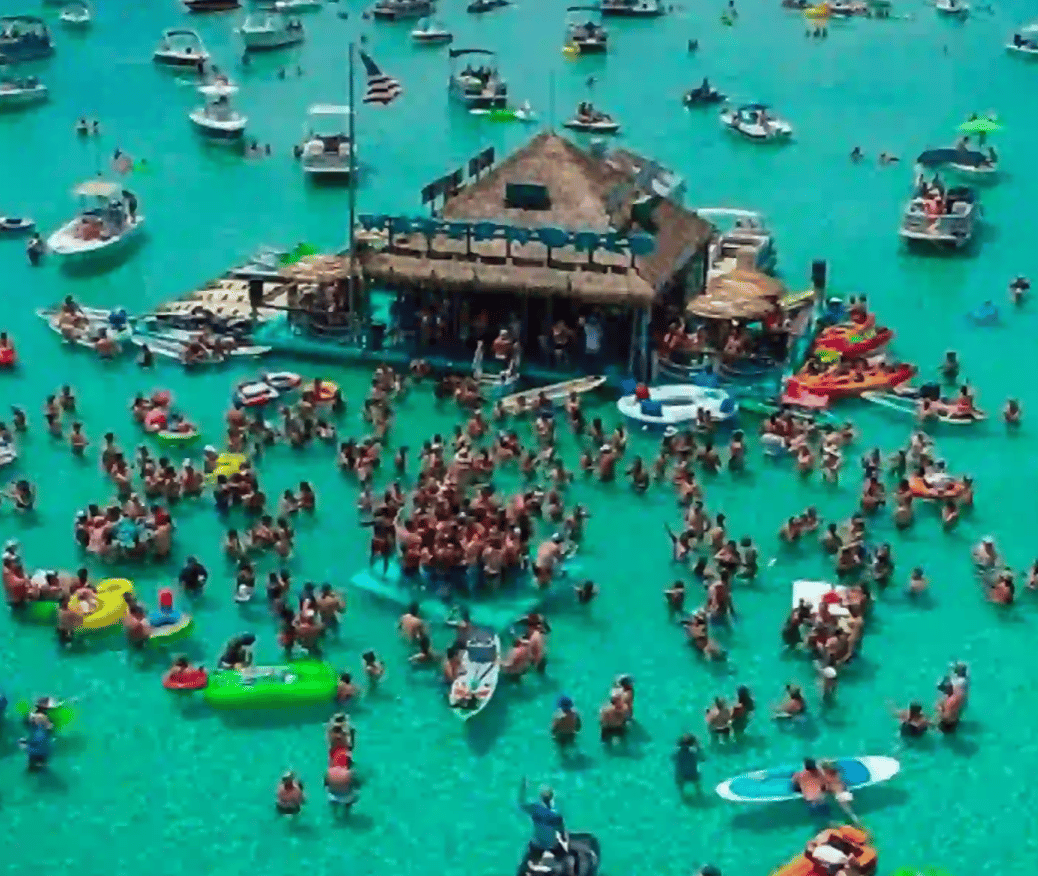 Another popular activity at Crab Island is kayaking. Kayakers can paddle out to the sandbar and enjoy the calm waters and stunning scenery. The shallow waters make it easy for even novice kayakers to explore and take in the breathtaking views of the Choctawhatchee Bay.
For those who prefer a more laid-back experience, Crab Island is a great place to simply relax and soak up the sun. The shallow waters and soft sand make it the perfect place to stretch out and enjoy the warm sun and cool breeze. Visitors can also take advantage of the many food and beverage vendors on the island, who offer a variety of delicious treats and drinks.
Additionally, Crab Island is a popular spot for socializing and partying. With a lively atmosphere and a mix of visitors from all over, it's a great place to meet new people and have a good time. There's always a festive vibe on the island, with live music and games taking place throughout the day.
Crab Island is also an important wildlife sanctuary. The shallow waters and mangroves provide important habitats for a variety of species, including shorebirds, fish, and marine mammals. Visitors are encouraged to respect the wildlife and avoid disturbing their habitats.
In conclusion, Crab Island is a must-visit destination for anyone visiting Destin, Florida. With its stunning scenery, clear waters, and lively atmosphere, it offers something for everyone. Whether you're looking for an adventure-packed day or a relaxing escape, Crab Island is the perfect place to make memories and have a great time. If you need transportation to and from your boat rental utilize a destin limo service to get you there safely!